Hemp; the superfood that comes from cannabis.
Of great genetic and chromosomal complexity, the hemp or marijuana offers us exquisite, high-quality benefits, and its seeds are no exception. Hemp seeds do not contain THC or any psychoactive and are currently recognized as a superfood, providing our body with various nutrients which are really important for our health.
In them we can find a lot of different important qualities. Here I explain in a simple way its main properties and uses:

Rich in fiber; improving your digestive system, it lasts a long time in the body so it reduces cravings, helps your energy and keeps you satisfied.

High in vitamin B; contributes to your cardiovascular circulation and its function, in addition to lowering blood pressure, it also has vitamin E that provides antioxidants and helps delay your aging.

Contains essential minerals such as iron, calcium, magnesium, phosphorous, zinc, and sulfur, among others.

Great source of vegetable protein and amino acids; helps muscles to regenerate faster after exercising, strengthens your immune system and reduces fatigue. It is a perfect option for vegans and is also gluten free.

Peculiar composition in its oils; the presence of Omega 6 in 55% and Omega 3 in 20%, makes it have the perfect balance for the recommended daily dose, it is even recognized by the WHO (world health organization). This unusual mixture reduces cholesterol levels, it is beneficial at the cerebral and cardiovascular level.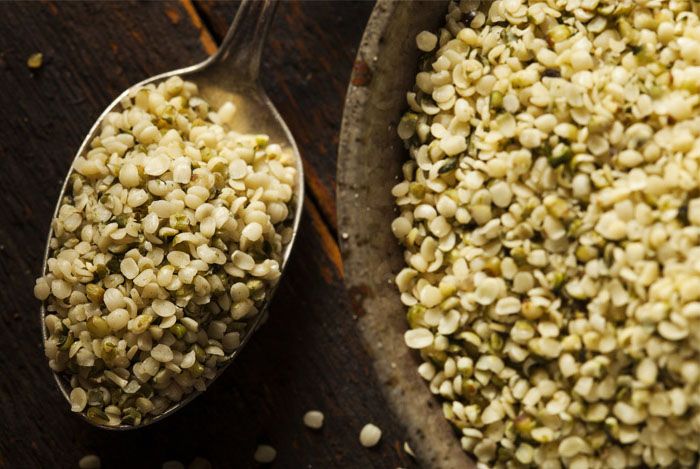 In addition, it has a significant presence of GLA (gamma linolenic acid) that helps to naturally balance hormones, thus preventing depression and stress, is anti-carcinogenic, improves arthritis, inflammations and last but not least it is beneficial to your skin, hair and nails.
Without a doubt hemp seeds are a wonderful product, personally I use it on a daily basis in my smoothies, since you can get it in seeds, powder or oils. Its consumption, transport and use are completely legal, so I recommend that it is something that you must add to your pantry.
Hemp; il super alimento che proviene dalla canapa.
Di grande complessità genetica e cromosomica, la pianta di canapa o marijuana ci offresquisiti benefici di alta qualità e i suoi semi non fanno eccezione. I semi di canapa non contengono THC o altre sostanze psicoattive e sono attualmente riconosciuti come un super alimento, fornendo al nostro corpo vari nutrienti importanti per la nostra salute.
Nei semi di canapa troviamo differenti qualità benefiche. Qui vi esporrò alcuni dei suoi usi principali e delle sue proprietà nella maniera più semplice possibile.

Ricchi di fibre; migliorano il tuo sistema digestivo e riducono l'appetito mantenendo un livello energetico significativo.

Ricchi di vitamina B; contribuiscono alla circolazione cardiovascolare e, oltre adabbassare la pressione sanguigna, contengono anche vitamina E, che fornisce antiossidanti e aiuta a ritardare l'invecchiamento.

Contiene minerali essenziali come ferro, calcio, magnesio, fosforo, zinco e zolfo, tra gli altri.

Rappresentano un'ottima fonte di proteine vegetali e aminoacidi, aiutando i muscoli a rigenerarsi più velocemente dopo l'esercizio, rafforzano il sistema immunitario e riducono la fatica. È un'opzione perfetta per i vegani ed è anche senza glutine.

L'olio dei semi di canapa ha una composizione particolare; la presenza di Omega 6 (55%) e di Omega 3 (20%), rappresenta la dose quotidiana raccomandata per un
individuo ed è persino riconosciuto dall'OMS (organizzazione mondiale della sanità).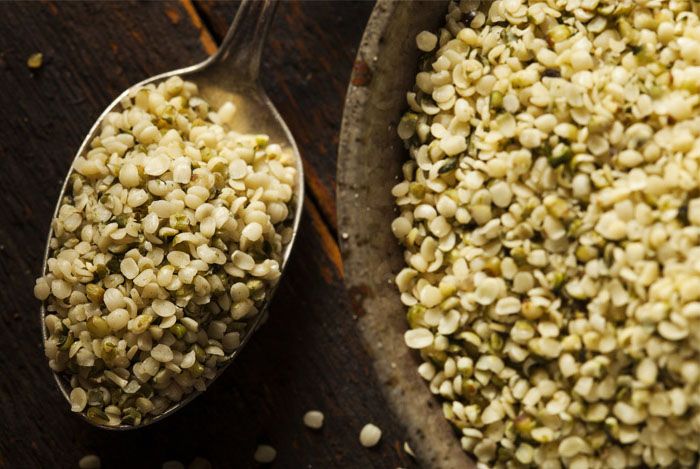 L'olio prodotto dai semi di canapa riduce i livelli di colesterolo, apporta benefici a livello cerebrale e cardiovascolare. Inoltre, ha una presenza significativa di GLA (acido gamma linolenico) che aiuta a bilanciare naturalmente gli ormoni, prevenendo così la depressione e lo stress. È quindi anti-cancerogeno, migliora l'artrite, le infiammazioni ed è un prodotto consigliato anche per il trattamento di pelle, capelli e unghie.
Senza dubbio i semi di canapa sono un prodotto meraviglioso.
Personalmente li uso quotidianamente aggiungendoli ai miei frullati, dal momento in cui è facilmente reperibile sotto forma di semi, polvere o olio. Il suo consumo, trasporto e utilizzo è
completamente legale, quindi ti consiglio di aggiungere questo fantastico prodotto alla tua dispensa.
Hemp; el superalimento que proviene del cáñamo.
De gran complejidad genética y cromosómica la planta de cáñamo o marihuana nos brinda exquisitas bondades de gran calidad, y sus semillas, no son para nada la excepción. Las semillas de cáñamo o Hemp, no contienen THC ni psicoactivos y actualmente son reconocidas como un superalimento, aportando a nuestro cuerpo, diversos nutrientes provechosos para la salud.
En ellas encontramos una lista de diversas cualidades. Aquí te explico de forma simple sus propiedades y usos:

Rica en fibra; mejorando tu sistema digestivo, dura bastante en el cuerpo por lo que reduce antojos, ayuda a tu energía y te mantiene satisfecho.

Alta en vitamina B; contribuye a tu circulación cardiovascular y su función, además de disminuir la presión arterial, también tiene vitamina E que aporta antioxidantes y ayuda a retrasar tu envejecimiento.

Contiene minerales esenciales como el hierro, calcio, magnesio, fósforo, zinc, azufre, entre otros.

Gran fuente de proteína vegetal y aminoácidos, ayuda a que los músculos se regeneren más rápido después de ejercitarse, fortalece tu sistema inmune y
reduce la fatiga. Es una opción perfecta para los veganos y además esta libre de gluten.

Peculiar composición en sus aceites; la presencia de Omega 6 en un 55% y Omega 3 en un 20%, hace que tenga el balance perfecto para la ingesta humana recomendada, incluso es reconocido por la OMS (organización mundial de la salud).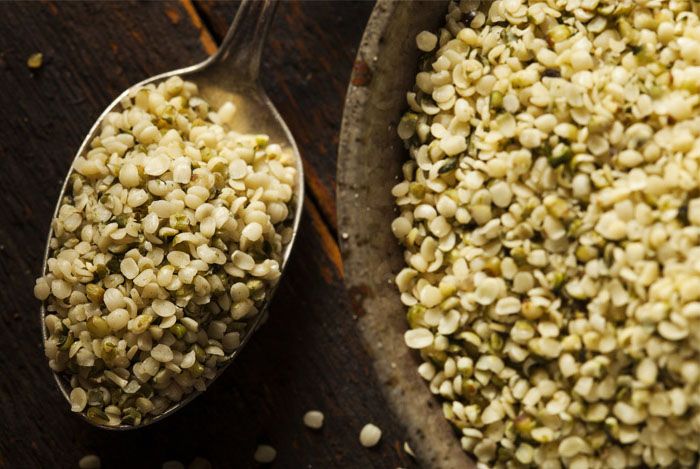 Esta inusual mixtura reduce los niveles de colesterol, es beneficioso a nivel cerebral y cardiovascular. Además, cuenta con una significativa presencia de GLA (acido gamma linolénico) que ayuda a balancear de forma natural las hormonas, por lo que previene la depresión y el estrés, es anti cancerígeno, mejora la artritis, la inflamación y por si fuera poco ayuda a tu piel, cabello y uñas.
Sin duda las semillas de cáñamo son maravillosas, personalmente lo utilizo de forma diaria en mis batidos, ya que puedes conseguirlo en semillas, polvo o aceites. Es totalmente legal su consumo, transporte y uso por lo que te recomiendo que es algo que debes sumar a tu despensa.